Touring New Zealand 2000


Part 1
This section covers the outward flight, the few days in Auckland and the journey down to South Island. It is not the way we would suggest a newcomer to New Zealand to go South as they would be less constrained and could make stops at, for example, Rotorua on route, perhaps visit one or two of the vineyards or see Napier. Last years Tour provides plenty of ideas. This section is however useful in covering a bit about New Zealand banking, Internet Acess and Trains.
We flew out this year on Malaysian Airlines via Kuala Lumpur because they offered the best deal - nothing wrong with them - reasonable seat spacing, video consoles for every seat and acceptable food (if you like rice, rice and more rice) although everything looked worn out on the 747 on the first leg - the second leg was a brand new 777. Not as good as Air New Zealand but better than Korean or Britannia.
We were picked up by Chris and Ralph after an unusually long wait at the airport clearing immigration - several flights arriving together. At least they did not put us through the even longer looking MAF line after we assured them our boots had been well scrubbed. NZ is very keen to keep out insects and seeds - they have even gone back to spraying aircraft before they land.
We lazed away the after noon or more correctly napped until it was time for food. Ralph has obtained a Smoker and we had some excellent smoked fish and chicken making a pleasant and relaxing start to the holiday. It seems an excellent way of cooking and we must investigate further.
The next morning it was down to BNZ (Bank of New Zealand) to pay in some cash and start up our cheque account again so we can use our EFTPOS card - everywhere in NZ has taken EFTPOS for years whilst Debit Cards are only just catching on in the UK. We also got details of their Internet banking which could work once we are back in the UK but looks too slow for the Libretto. We then continued to recover from the time shift and organised our kit - we have a comprehensive list of what we believe are the Requirements for Basic Camping but it seems to extend every year! Last year we gained the Red Devil - a super gas Barbecue and oven, this year a big rigid coolbox and other wine and picnic coolers for Christmas from Chris and Ralph.
Pete also spent time getting back on the internet - Ralph has provided us with a Xircom 28.8 modem which gives us connection via a landline as well as the mobile connection. We use Xtra as a service provider in New Zealand through Chris and Ralph - Xtra are part of NZ Telecomm and it is easiest if you have a telephone account to get the bills paid and they were very responsive both by email from the UK and by telephone once we had arrived. Our alternative has been CompuServe accessed via the mobile telephone - we had some difficulty with some of their numbers but have found the Christchurch one to work well and last year they were most helpful over the telephone and a complete contrast to the UK support.
In the evening they took us down to the Americas Cup Village - There were some very fancy visiting boats, several 175 foot or more, mostly from the Caribbean moored in the new facilities. One could only see the racing boats in the distance and they were a complete contrast - anorexic is the only word we can find to describe them. The Louis Vuitton competition, the winner of which competes with the holders New Zealand for the Americas cup, had reached the stage of the final sail-offs between the last two contenders, AmericaOne and Prada from Italy. The Americans have already had one boat fold up under the Hauraki Gulf conditions and as I write this they have just lost another of the series of nine having had to withdraw after a spectacular blow out of their spinnaker and then a broken mast.
The whole area has been rebuilt and turned into a very pleasant area for a walk round - we were fascinated by some of the Maori carvings gracing the dockside. We ate in one of the many pavement style cafes that have sprung up in the area - in this case a Brazilian restaurant called Wildfire; entertaining and plenty of good food but a bit expensive by NZ standards - must have been almost half what one would pay in the UK!
The next morning we took a train down to Rotorua to pick up the Toyota Townace from Grahame who had been looking after it for Jenny and Kev. The original intention had been to take all our kit down but when we changed our mind when we looked at the logistics of handling three suitcases, five bags, the new coolbox, cameras, videos, mattresses, pillows, two fishing rods, the red devil (the super portable barbecue and camping oven we were given by Chris and Ralph last year) and a bucket of odds and ends for fishing - well over the two bags strictly allowed on the train and enough to be a concern even knowing how flexible New Zealanders can be!
The train was very small, only two coaches, and very economical if you book the super saver tickets ($32 each for a 4 hour journey). The route is however not a very attractive one and the coach is likely to give a better picture of the country. We have been on several NZ trains and are perhaps a little biased because we have often picked rainy days. The best journey is the Transalpine from Christchurch to Greymouth - that is definitely recommended. Full details of tourist (Tranzscenic) and other rail trips at http://www.tranzrail.co.nz - unfortunately all the cheap train and ferry fares can only be booked from within NZ using a free number 0800 802 802.
Grahame met us at the station with the Toyota which was shining and had just been serviced ready for us. It is a very upmarket vehicle compared to previous years - it even has air-conditioning and electric curtains (although to be fair the Tomlinson Campers have served us very well over the years and never let us down). Everything is so packed in it took me two days to find the battery (under a floor at the back). It is a diesel which should be very economic to run, however there is a surcharge currently in force and one has to buy "tickets" which are displayed along with the licence in the windscreen. A diesel ticket for 10,000 km cost us $190 effectively bringing the cost up from 60 cents a litre to circa 85 cents which is close to petrol - even so it is a lot cheaper than the UK. The ticket had just run out so the first activity was a trip to the Rotorua post office and other important shopping at Doyles, one of a good chain of camping shops.
We then hit the road taking the slightly longer route via Tauranga and up the East coast heading for Katikati, or to be more precise Morton's vineyard to stock up with our favourites. We are on their circulation lists so we knew there were some bargain cases for the Millenium. We also sampled some of the other wines and it confirmed our view that Morton is well worth going out of ones way to visit. It also has a first class vineyard restaurant which we were unfortunately to late for. It was probably just as well as we got back to an excellent Barbecue from Ralph - he always marinades everything for at least 24 hours in home brewed mixes which makes a tremendous difference. Not surprisingly we had a Morton Fizzy whilst food was on the Barbecue.
Pauline did some preliminary investigation of packing that evening before loading for real early the next morning and heading south for Wellington and the ferry.
We stopped the first night on the edge of lake Taupo at a campsite we had used last year. We had a cabin the excuse being we needed an early start and did not want to wait for the tent to dry. We got a nice tourist flat for $55 complete with cooking and shower room.
We left at dawn for Wellington passing some spectacular scenary on route.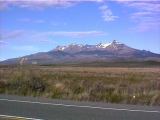 First swop of drivers was at Bulls which gave an excuse for a couple of enormous icecreams, the two scoops were almost but not quite too much to eat and they had one of our favourites - Goldrush, which is full of bits of chocolate coated honeycomb. It is difficult to see how they make a profit when they charge $1.6. Bulls features a series of puns on the name in all the shop names - very comtemptibull. We stayed in Wellington at the Sharella up by the Botanical Gardens and persuaded them to give us corporate rate - it didn't seem fair to land on John and Blyth for one evening then leave at 0630 in the morning. Continuing our policy of running with winners we went to Shed 5 for a snack lunch - Alan Scott's award winning 98 Sauvignon Blanc and a big bowl of Kumara chips with a salmon dip all for $20.
We dropped into the DOC office in the Old Government Building - one of the largest wooden buildings ever built - to update our information.
We have been round the building before but took time for a quick walk round and took a few pictures inside and out. It was then on to Doyles for two chairs to replace those locked up in Jenny and Kev's place.
Next stop was a watch shop for repairs to Pauline's old watch - another contrast to the UK where they quoted within 25% of the cost of a replacement to service and waterproof it and suggested doing it every two years.
In Wellington they said they never recommend cleaning a digital watch and were willing to change the battery and gaskets,
look it over and check it was waterproof for $20 (£6.50), just under 10% of the UK quote. Wellington always has interesting sculptures and we passing some new ones with a theme of "The Navigator" being constructed close to the Beehive and there were some interesting aerial sculptures suspended over one of the sqaures by the waterfront. We went back to the hotel via cable car and Botanical gardens . We found they had opened a new Cable Car Museum at top - and spent a fascinating half an hour talking to one of the curators and seeing their restoration work on one of the original pair of cars.
We went back into Wellington in the evening and returned to the Malthouse for beers and supper. We are definitely getting very set in our ways and tend to return to places we have enjoyed in the past.
The Malthouse claims to have a selection of 25 natural beers, the largest choice in NZ. They have a tasting tray with 5 small glasses for $5 which makes an excellent introduction whilst one is deciding. They vary from light very pale ales to the famed Pink Elephant at 7%. Food is also not at all bad and very reasonably priced - we left full of beer and food for under $50 (o16) including a huge and succulent port fillet and an excellent fish in beer batter. We sat outside since it was a mild evening but inside is more fun for people watching - see the First Part of 1999 Tour for more details and a lot more about Wellington itself - we spent a week there last year.