Touring New Zealand 2000


Part 3
This part starts in Queens Town on the edge of Lake Wakitipu. To some Queenstown is the essence of New Zealand - the centre of the adventure sports NZ has become known for with bungy jumping, rafting, parachuting, parascending, hang gliding and jet boating to name a few. It is a place you really have to visit but much of what it is best known for is not what brings us back to New Zealand - yes we have been on the Shotover Jet boat rides (which are an incredible experience in a rather theatrical way) and we have watched or participated in many of the other activities. It is however thronging with tourists unlike almost any other town in New Zealand. It is also one of the few places where one worries about leaving things or bad behaviour, mostly we regret to say from Europeans.
Despite everything said above we come through and stay for a day or two every time in South island because it is a good base for many things we do enjoy. There is the superb old steamship the Earnslaw still running as smoothly and silently as when she entered the water nearly 90 years ago. There is the magnificent scenery round the lake looking across to the Remarkables and all up the road to Glenorchy, one is close to the Goldfields with Arrowtown and the Kowarau Gorge and there several of the Otaga vineyards within an easy drive.
The whole area had been affected by very bad weather at the end of 1999, in particular a storm on 17th November raised the lake up many feet in a few hours and caused the worst floods in a hundred years and some of downtown Queenstown was still closed in January 2000. We went up the Glenorchy road which had many washouts and many other areas showed evidence of the severe conditions. Even so we had a pleasant trip to Glenorchy at the far end of lake Wakatipu with magnificent scenery looking over to the various stations and the Remarkables range of mountains.
In the evening we took a trip on the Earnslaw to the Walter Peak station for dinner in the old colonial house - a good buffet style meal (even better for being half price!) with plentiful food and a good carvery to the sound of their resident piano player before watching a sheep dog demonstration. They try to persuade the visitors to have a ride on their bull - the previous one called Robby, which we had seen and ridden, has unfortunately been put down because of arthritis and the replacement Duncan is a mere lightweight at 750 kgs but they expect him to grow to over 1000kgs in another few years.
The Walter Peak Station is still very active and huge by UK standards running 15,000 sheep, merinos on the high country and peridales on the flatter parts, along with 800 cows. When they bring the sheep in the shepherds and dogs are now taken up by chopper to the top of Cecil Peak 1975m and they use 15 dogs to bring them all in.
The next day we returned to the theme of gold with a visit to Arrowtown with it's restored Chinese settlement on the banks of the river Arrow where Gold was first found in 1862. The small group who first discovered the gold brought out over 200 pounds in 4 weeks before others tracked them and it down and started another gold rush.
We tried several of the DOC Goldfield walks in the area but the trails were marked (fairly correctly) as washed out
- we tried two routes and after paddling our way through streams and climbing over fallen trees we were forced to give up on the first but at least ended up climbing to 800 foot or so giving nice views back over the area on the second before returning. We also took Tobin's track to a viewpoint over Arrowtown - a hard slog for 1.5 miles at a relentless 1 in 5 with not a cloud in site or a tree for shade on the track - worth it for the view but we were very weary on our return from that second walk.
The next day we had an early start to get to the "Kingston Flyer" for 1015 run -
it is the best restored/preserved steam train we have seen. They have two NZ built engines and 8 coaches all genuine and restored to the state they would have been in the 1920s. Our train had 4 coaches including an interesting first class carriage with an open viewing platform all down the side connecting the compartments and a coach built to carry Ministers of State in luxury which now provides the dinning facilities - it is much wider than all the other coaches. Everything is as genuine as possible - the trains are even running on the same rails as laid in 1872.
It was then on to Te Anau to another Top Ten camp site - we had been to it before and found it has recently won the best camp site in NZ award. It was a big contrast to Queenstown site being very clean and well appointed - it even had 2 free barbecues with a big collection of herb bushes beside them with signs saying 'use me please'.
They put us in a very sheltered area which was a good job as the winds were high once more. The forecasts said the winds would DROP to gale force the following day on the Fiordland coast! We sheltered in the kitchen block on arrival to make coffee and found it was part way through the last race in the Louis Vuitton cup with Prada (Italy) and AmericaOne even at 4 races each - we remained to watch Prada slowly draw ahead and win - for the first time ever the Americas Cup will not involve an American boat. We went out to an Italian Restaurant in the evening and ate Pizzas with a bottle of Italian wine to celebrate - we failed to convince them that all drinks should be on them following the Prada victory!
The next day was still windy and showery - to much so for walking - so we drove the 'Road to Milford', a high priority on ones first visit.
We have seen the scenery down to Milford and the Sound itself several times but it changes so much with the conditions it would be difficult to tire of it completely.
We however did not take a boat trip (essential if you have never been before) and ducked out of some of the side walks as it was too heavy a rain by then to even carry a camera. The most spectacular short walk is to the Chasm which is fortunately not on most of the Tourist bus itineraries. The weather cheered up a little the other side of the mountains and we did one of the signed "nature walks" to Lake Gunn to get a bit of exercise.There are longer day walks which we will have to save for the future. In the evening it had cleared enough to make use of the camp site barbecue and we then hid in the van from the wind and rain. Fortunately the pitch was very sheltered and we kept warm and dry overnight - our bargain tent is serving us well on its fourth year and it's size (8' x 8') is ideal giving some room to move yet being quick to put up and down. We decided not to spend another day in the rain and to head to the next area the Catlins in the far South.
The whole sector from Te Anau to Dunedin via the South Coast is a designated Heritage (Tourist) Route called the Southern Scenic and must be high on ones priorities if one visits South Island. The Catlins in particular are relatively unexploited and have some magnificent scenery, sculptured by the prevailing Southerly gales and hosting a wide range of wildlife. They include yellow-eyed penguins, little blue penguins, fur seals, New Zealand Elephant Seals and Hectors Dolphins. Hectors Dolphins are the smallest and rarest marine dolphin in the world with a population of only a few thousand. The are easily recognised because they are the only dolphin to have a rounded dorsal fin. They rarely leap like other dolphins but often play close by in the surf and even surf when there are good waves. There are often pods in view in Porpoise bay - we saw a lot on previous visits but this year it was rough and we only saw one in the distance.
We stayed at a backpackers at Waikawa - one of the few sources of accommodation in the area. Backpackers in NZ are not at all what one might expect - they no longer feature rows of smelly boots in outside dormitory accommodation - most now also offer double or twin rooms based round common areas of kitchens sitting rooms etc. They, in fact, tend to be more expensive than basic cabins at a camp site as they are serviced and provide full bed linen etc. They are catering to the market where weight is at a premium. The one we stayed at is the only one we have used so far and we were very impressed - we had a comfortable double room off the common sitting room with plenty of comfortable chairs and a log fire laid ready for lighting if it had turned cold. There was a fully equipped kitchen with plenty of utensils and crockery to cope with the three double and twin rooms and the dormitory sleeping another 4.
We went to Curio bay the next morning at low tide. Curio bay is a must if you visit the Catlins. The fossilised remains of an ancient forest stretching 20 kms down the coast is lies fully exposed here at low tide. It is one of the best preserved examples in the world and dates from the Jurassic period - about 180 million years old. You can just walk over it and look at the fallen trees and stumps where one can still count the rings. There is also a good chance one will see fur seals and elephant seals and we have even seen a yellowed eyed penguin on the beach on previous visits.
The rain cut back a bit and we thought we it would be a good time to have a look at some of the waterfalls the Catlins are so well known for.
We had a 30 minute forest walk to the McLean falls which had a good bit of water coming over them. I have lots of Video and stills off the new digital video camera but have had no time to transfer it to the Libretto and do not want to fill up your email with images, so they you will have to wait for them on the web site. We also looked at Matai falls with Horseshoe falls just above, again at the end of a short forest walk. Many of these short walks have basic interpretation boards by DOC another excellent example we next visited being the walk round Lake Wilkie.
This is not only a beautiful 20 minute round trip especially if the Rata are in bloom but also has boards explaining the changes as one approaches the lakeside in the vegetation and how the forest regenerates.We completed the days tour of the Catlins with another short walk to the Purakaunui Falls, perhaps the most spectacular of all but we have less pictures as it was raining too hard to get more than a brief shot whilst hiding the camera under a borrowed umbrella.
We stayed at a camp site at Pounawea which we had used before and found their original Batch (or to be more correct a Crib on South Island) was available. Batches were simple basic holiday homes built by many people which they returned to and extended every year, they were often close to beaches or lakes and would have started life with water collected from the roof or a
stream/well and a long drop outside but by now some are scarely destinguishable from a normal home with all mod cons.
This one was built in 1938 and still has an original style Zip water heater and only the fridge is a bit too new to be original. It still has the original huge concrete water tank outside (but not used) and the main camp facilies are available. They say people prefer their new bare concrete box cabins which we do not understand. There is a bush/estuary loop track from the camp site which we took first thing in the morning - it is only possible at mid-low tide. We also went to the far side of the estuary to Surat bay where there was a Spoonbill only a few meters away on the beach - unfortunately it took to the air before we could get a picture.
It was then on to Nugget Point - another must in the Catlins.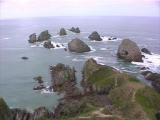 There is a lighthouse built in 1869 at the end which is a good view point - on the approach we could see several colonies of seals below us with the pups gambolling in the rock pools. We also saw three more of the rare spoonbills in the distance and a lone yellow penguin - a year old bird without the pronounced yellow colouring on the head which develops when they are mature. They were all beyond range of the cameras although they were clear with binoculars. On the way to Nugget Point one passes Roaring Bay where there is a hide for watching Yellow Penguins - this is the time of year they stay ashore for the moult and we were also too early in the days so we did not see any this year - last time we came we saw a lot come ashore and also had the rare chance to watch some playing in the surf.
That completed our, all too brief, stop in the Catlins - there was still plenty to do for another day and there are also DOC camp sites in the area to stay when the weather is better. The winds are always strong and we saw many fascinating examples of windshorn trees - bent and knarled with branches only on one side.
It was then a dash up the coast to Dunedin, or more precisely Portobello a little outside on the Otago Peninsular, and a very rough camp site (one tap serving the whole kitchen, no electric kettle and a stove so slow it took 15 minutes to boil water)
but close enough to the well known 1908 Restaurant for a first class dinner with an excellent Church Road Chardonnay 98 to compensate - the winery is owned by Montana and shows that the big boys can take on the best of the boutique wineries when they choose.
We had gone to Portobello so we could get out to the Albatross colony first thing in the morning. There was one bird flying when we first got their but none whilst we were in the hide.
There were several nest close to the observatory and we got our first good views on a chick of only 4 days old being fed and groomed. The observatory is run by a Trust and we rejoined as members - it costs little more than two entries by the time the free entry for one of us is taken into account. I have not time to go into the Royal Albatrosses in detail here other than to note that they come back to breed every two years to the same place and with the same partner - the remainder of the time being on the wing. They circumnavigate the globe many times achieving an average of 500 kms a day and often exceed 1000 kms in a day as they move from one feeding area to another. They are magnificent birds to see in flight exceeding 10 feet in span. They often live for over 40 years and one is known to have reached over 62 years.