Touring New Zealand 1999 - part 1
Auckland, Mt Egmont and down to Wellington
We flew over to New Zealand with Korean Air this year as they were considerably cheaper than Air New Zealand. The seats were fine with a sensible pitch and the food adequate with some interesting local dishes. We had to change at Seoul which worked fine - one was allowed into the normal terminal for the hour rather than kept in a pen as at LAX. The only unusual thing was that they rechecked our hand luggage and confiscated all our spare batteries and bagged them to be carried by the crew - it is true we had a lot of batteries because of computers, GPS, torches, fluorescent lights etc for camping - they discovered 34 including rechargeables but strangely they were not concerned with those in equipment. We got no explanation of why they disliked spares but at least they turned up at the far end. I would have thought they would have been far more concerned over all the cables, cards, disk drives and other widgets needed to keep in communication for the three months.
We landed at 1030 in the morning, reasonably on time, to be met by Jenny and Kev with the two kids Kerry (3) and Jasmine (.4). It turned out it was a National holiday so our plans to sort out our Bank accounts etc had to be suspended and we had a lazy day at their rented house in Swanson about 15 kms West of Auckland - plenty of space, a nice deck and views of bush and back to the Sky Tower downtown. Decks seem to be a feature of New Zealand houses - usually wood giving a large area round one or more sides of the house and, because of the terrain, often above ground level like a veranda.
Chris and Ralph joined us in the evening and we started to break out the first of the Morton fizzies we had the foresight to buy in duty free on the way in - a very civilised concession for visitors which saves fuel. Morton is one of our favourite North Island wineries which has an excellent associated restaurant.
Wine and Wineries accessible from Auckland - Henderson and Kumeu
Wine is the reason for the timing of the aside in the narrative - we immediately set out to visit some of our favourite vineyards in the Auckland area and stock up for the first few weeks and to be in position to repay the hospitality we were receiving from my nieces and families. We started at Matua where we sampled most of their wines - we had not collected the camper yet so Jenny was persuaded into driving with the promise of a vineyard lunch. Many of the wineries have associated restaurants making wine tasting a very pleasant days activity. Having sampled at Matua and stocked up with a mixed case and a half it was on to Selaks for Lunch.
Selaks has a very typical winery restaurant, airy with both inside and outside tables and, of course, good food. NZ food is not the nouvelle cuisine style where you have to get fish and chips on the way home to avoid starvation - it is high quality materials well cooked and often in large quantities. Selaks is no exception, we both had a NZ spaciality Lamb Shanks, one large and one small helping - the small helping was a whole lamb shank and the large was two, both deliciously tender. Jenny had a vegetarian dish and none of us could manage a sweet - the cost with a couple of large glasses of wine just $65 equivalent to £20 for the three of us. Wineries and the associated restaurants must included in the list of NZ features!
I said nothing earlier about the wines we sampled and chose. Matua have vineyards in both North and South island and it was interesting to compare the characteristics of the same varieties in the different vineyards. We bought our usual selection of Sauvignon Blanc, Oaked Chardonnay and Cabernet Sauvignons but also tried and liked an interesting new addition to the Matua range namely a Pinotage Cabernet Sauvignon blend which was not only good but also very economical at only $10 a bottle - we put several in our cases. Matua have also added a new sparkling to their Shingle Peak (South Island) range which we could not sample but took a couple anyway. On tasting it was everything they said and it will probably replace the equivalent Morton as our "standard" fizzy. Matua also do a vintage sparkling called M which we initially liked but has remained the 1992 vintage for several years and the last one we tried we suspected was starting to go over the top.
After the lunch we persuaded Jenny to run us into Auckland to go to our bank. We come over sufficiently often it seemed worth having a local account so we could get the universally acceptable EFTPOS card. It is all much more relaxed than in the UK and we just fax BNZ (Bank of New Zealand) a few days before we turn up and they have the EFTPOS cards waiting. Transfers are also no hassled and we send a UK cheque by post and get money market rates and no charges. They are also quite relaxed about us opening a cheque account just for the length of the stay and then close it leaving us with high interest minimum transaction "Achiever" account for the next 9 months - how many UK banks would recommend one to do that.
The next thing was to pick up all our camping, sailing, fishing etc kit which was stored with Christine. We also found a big box in Christmas wrapping paper which turned out to be a "Red Devil" gas barbeque. It looks incredibly versatile as it not only acts as a grill but also giant frying pan with a dome lid large enough to enable one to roast a turkey - it even has a thermometer! It packs into a couple of special tote bags and can be run on standard 450 Gram Propane cylinders so one can carry it down to the beach. We can not wait to try it all out!
Next day we collected the camper from Rental Car Village. We had to wait a few minutes whilst they fitted a new cigar lighter socket - essential for charging all our kit - and we talked to the owners son, who is also not only a dedicated traveler, but also runs their web site. He travels with a Libretto like ours with a GSM phone card plugged in. Keith, the owner also came over to chat and said he had recently done web search to see what references there were to them and apparently our site had come high up on the list from the Search engine - he seemed to think what we had written was fair and helpful to them and they are certainly giving us a good deal for our long hire. We agreed with the son to try to get some extra pictures of their camper vans if we end up in any interesting places. We were very happy last year - the campers are not fancy but turned out to be reliable and very economical compared to a hire car. It was nice to meet the owners of the business and it reinforced the good feelings we had. Have a look at their site at http://www.rentalcarvillage.co.nz and what we wrote last year in our newsletter.
After an afternoon on a beach and a couple of swims we stopped lazing around and did the shopping. There are some very cheap places provided you are selective such as The Warehouse and Payless Plastics, we got a huge expanded polystyrene coolbox for $6.50 to add to the $10 one from Rental Car Village. Other favourite places for camping kit are Para Rubber and Doyles which can provide almost anything to do with camping.
Once we had wheels it seemed time to go and look at an Auckland museum we had not yet visited, namely MOTAT, a Steam, Aviation and Transport museum. We really enjoyed the Aviation section which we went to first as it is on a separate site. The exhibition is dominated by a Solent flying boat which even overshadows their Lancaster and their Rapide is dwarfed under a wing of the Solent. Overall a very good display with lots of information. The main museum is sited round the Steam driven Beam engines which used to pump all of Auckland's water from the Western Springs. The additional sections include a tram museum with working tram line to the Zoo, Steam locomotives, a station a Victorian village and an activity museum for children. If you go to MOTAT note that AA members get a considerable discount as with many other NZ tourist attractions.
It is now time to get the tent out and start for Egmont where we have a couple of days booked at the Mountain House hotel. We set out down the West coast, an area we did not know at all. We worked our way down on minor roads, many of them of them unsealed gravel ending up in a campsite at Raglan, chosen because it was enormous with 300 sites bordered on one side by a river and the other by the sea. In the event we probably did not need to worry as the Kiwi holiday season is so short that everything frees up by the second week in January. The site was less than half full and as far as we could see mostly locals, many Maori. A good staging post but a bit short on facilities compared to most commercial sites although every pitch had its own power hookup and water tap.
More gravel roads as we worked our way South. We stopped to walk to the Bridal Veil falls.
It looked quite a small stream but the 55m falls were very pretty and well worth a visit.
It was also good to see that we were in time to see the Pohutakawa - often called the New Zealand Christmas tree were still in bloom on parts of the coast. We stopped to take some pictures of one which was an even more spectacular colour than most - it must be a different sport as it was only just coming into bloom.
Pohutakawa used to line the entire coast but many of them have been lost but there is a scheme called "Project Crimson" to gradually replace them - this must have been one of the new ones. The Coromandel coastline where we have sailed and camped is still lined with the gnarled old trees almost touching the water, unfortunately we are usually too late to see them in their full glory.
We then visited the even more impressive, if less high, Marokopa falls.
We camped at small site on the coast at Arakino right beside a vast sweeping black beach which we looked good for surf casting but we did not have time to try our luck. The camp site was sheltered, cheap at $6 a head and well equipped with plenty of fridge space etc - one to return to.
We tried out the "Red Devil" and it was a great success at grilling steaks - it works with a domed and perforate plate over a burner so that the fat which drips is incinerated under the food giving a very effective barbeque effect with little expenditure of gas and our three steaks looked lost on the 15" diameter grill. A lovely sunset over Mt Egmont just visible across the bay and close to a hundred kilometers away rounded off the day - it is good to be back under canvas.
Mount Egmont (Taranaki National Park)
The next few days were a complete contrast as we were
staying in a hotel - in fact it was the only time during the holiday that we were in a Hotel or Motel. This was Mountain House, one the few hotels in the Taranaki (Egmont) National Park, which is at the end of one of the only three access roads into the park. We have been there before - it is small but serves some of the best food we know in New Zealand. The rooms at Mountain House are simple but adequate and the price is moderate at circa $90 a night for a double room. The owners have run hotels in the area for twenty years, Keith is local and Berta came from Switzerland and they take great pride in the service they provide. Keith is also an artist and there are many of his pictures on the walls. The set up is very much a family affair and one very much feels a guest in their home - the lounge has their photo albums on the tables and their scrap books going back twenty years. They have a web site at www.mountainhouse.co.nz which will give you a good feel of what they provide.
The food is out of this world with a mixture of local specialities and Swiss dishes. We booked for 2 days but after the first meal promptly negotiated a third day. We had Crumbed Sweetbreads in a Espaniole sauce and Whitebait as starters the first evening. Whitebait is a local spaciality and is very small, almost translucent fish and it was served in what is described as a fritter but one made so the Whitebait were on a base with more egg of the white and topped with more of the yoke. We followed with Gitzi Ragout (Goat) with home made Spaetzli. The starters were both so nice we reversed the next evening but then followed with NZ Pheasant in Brandy Sauce and a Roast Honey Ginger Duck. The final evening we had a memorable house spaciality of creamed paua, a local shellfish and scallops with parmesan. We followed with an enormous T bone steak as beef is still on the bone and a Lamb Shank. We did not always get to sweets but those we tried included a Swiss apple pie (covered in Meringue), an excellent Swiss Apple Streudel (repeated to check) and probably the best cheesecake I have ever had. They could sell lots of recipe books very easily.
The wine list is almost entirely NZ and understates the wines - the Nobilo Chardonnay was a reserve and superb and the Brajkovich Merlot was a signature series. There were many of our favourites on the list. The last evening Keith let on he had a special list as well which included wines such as Cloudy Bay Sauvignon and Montana Reserve Merlot he recommended highly.
Mountain House is right in the middle of the walking areas
in the Egmont park and we did three loop walks of varying lengths from the door plus another from the Plateau just up the road and another from just below on the access road into a special swamp (on duckboards). We also went over to Dawson Falls and did another three walks including one we recommend highly up to Wilkies Pools. The bush walks from Mountain House cover a variety of different forests as one works up through the tree line. Perhaps the most interesting is the Goblin forest which is primarily Kamahi which began life perched on the trunks of other trees, developing distinctive gnarled, intertwined trunks as they grew around the branches of existing trees which have now been stifled. The kamahi trunks and branches are covered in mosses, liverworts and ferns while other trees and shrubs grow perched on the kamahi forming compound trees.
It is difficult to give a proper impression of what one gains from these walks through these spectacular rain forest which surrounds Mountain House. Even the 15 minute circular Kamahi walk enables one to sample the goblin forests. We also did the longer (one hour) Patea walk followed by the Enchanted walk of a couple of hours taking us up to 1150 meters where the forest makes the transition to subalpine scrub. All the walks, even the shortest, do need good footwear - both walking boots and insect repellent are desirable. Conditions can change very quickly and Mount Egmont is not forgiving and local recommendations need to be followed for all but the shortest walks.
We spent a lot of time trying to film the local birds and there calls, the Tui and Bellbirds which contribute to the outstanding dawn chorus down to the Rifleman which is the almost as small as a Wren and the almost as small Silvereye.
It rained continuously at Mountain House from when we returned from our walks to the following morning - we got soaked loading the camper. It seemed appropriate to change our plans and follow the weather so we headed for Hawkes Bay - 400 kms in 6 hours including stops for fuel, shopping and lunch at Dannevirke - the camper goes quite well and the upright seating is far more comfortable than many cars when one does serious journeys. The weather was better as forecast in Hawkes bay so we went into a camp site at Kennedy Park - we were looking for a cabin but there were none left so we got a sheltered spot and set up the tent and the Red Devil. We took a walk into town and admired the Art Deco buildings and stopped for liquid refreshment in a Irish Pub - we thought they must have made a mistake with the bill - two pints for $4 (£1.30) but it was happy hour. Just as we turned in it started to rain and it continued all night - fortunately the tent was still waterproof and we did not get a spot of water inside. It was forecast to stop by mid day so we decided to stay rather than pack away a wet tent in the rain.
After another look round town it was out to the Wineries - Crab Farm first where we found a honeyed late picked Chardonnay and had a first class lunch of Venison liver with bacon and Lamb fillet flavoured with Cumin served with Kumari and Sage mash ($45 including bread and a glass of their award wining "Jardine" 95 Cabernet Sauvignon.
Then to another old favorite, Esk Valley, to replenish stocks and a have long chat with the manageress of the shop who we had talked to on previous visits. We were told all about the wine festival being held in February. Then a short stop at Church Road (part of Montana) to pick up some of the Twin Rivers sparkling and back to the camp site.
We were just starting to set up the "Devil" when the campers opposite came over bearing a enormous helping of fish and chips - they had been given double helpings and fed us - we reciprocated with a mug or two of the Montana "Jackson River" boating wine we had also collected at Church Road. It then started to rain again so an early night.
Last year whilst we were at Tutira another camper had told us about sites at Gentle Annie. We spent a lot of time trying to find where that was and eventually located it on the back road from Napier to Taihape and thought we would go that way. When we got to the area we discovered a number of big picnic areas with nice views down to the river which allowed free "Basic" camping (long drop but no water or other facilities) and decided to stay. Whilst we made use of the "Red Devil" once more the clouds came down lower onto the mountains and by 2030 it started to rain so we retired to the tent to read.
Overnight the rain steadily increased to the point where we started to worry about the camper becoming bogged down and the roads becoming washed out. The tent is pretty good from above but by 0500 Peter discovered his foam mattress was getting damp from underneath as water penetrated the groundsheet. It was light enough by 0600 to start to empty and take down the tent at which point the rain slackened a bit and we made coffee before an unusually early start. We heard latter that a fortnights normal rain had fallen whilst we were under canvas that weekend.
By popular demand of Pauline we looked for a roof for the following night as the forecasts looked like a repeat. We stopped at a camp site on Lake Taupo at Motuturi bay which had one tourist flat left - $55 for a room with everything and space to erect and dry the tent. It was a glorious afternoon and we lazed by the lake and swam followed by a barbeque on the RD. It looked like mistake until sunset when one could see big clouds and flashing and banging over the lake - it duly poured the whole night and cleared at dawn when we set off for the mountains.
The morning was lovely and we found a nice DOC campsite close in the Tongariro National Park but after the last few days decided to wait rather than set up immediately. We went up the ski lifts to 2100 meters just as the cloud started to come in. The return down an hour later was through cloud so thick you lost sight of the seat in front at times. Torrential rain started so we had to even abandon the walks we had planed and set off along our route towards Wellington and stopped at Ohakune in a simple cabin in the Mountain View motel whose main business was clearly catering for the winter ski season. We were the only inhabitants of the cabins so we had the kitchens, lounges etc all to ourselves - not bad for $30. After a bottle of the Twin Rivers with an Avocado dip to celebrate a safe arrival it cleared enough to get out the Red Devil and we ate outside on the lawn watching a magnificent rainbow and the rain approaching.
Shopping in Ohakune the following day showed it to be a pleasant town with a well stocked New World supermarket and many other features for the skiing season. We headed on to the Karioi lakes for a walk - there are two lakes, the first one you reach was made artificially for fishing etc and is known as Dry Lake the second one which you walk round is natural and called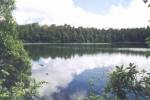 Lake Rotokura. The walk takes about an hour and a half and is well worth a minor detour - there are plenty of picnic tables at the lower lake within 5 minutes walk of the car park. We tried to take the heritage trail back road to Whanganui but the second half is gravel and the signs indicated it had been partially closed by washouts so continued on the main road. The scenery on the SH4 was almost as good even if there was more traffic. We camped on the coast in a commercial site at Castlecliff, 8 kms north of Whanganui. It was possible to get in the water but it was really a surfing beach - very hot and humid. There was thick fog in the morning so it took a while to dry out the tent.
Once the tent had dried we headed South to visit the Steam Museum at Tokomaru 12 kms South of Palmerston North on the road to Levin. We spent a couple of fascinating hours looking over the exhibits many of which are run regularly, but unfortunately only on selected Sundays.
They have a steam train, station and a short loop track as well as the static engines. Many are from the local area including aGigantic Steam Driven Ice Making Machine which used to freeze 200 tons of ice a day. The engines originate from the UK (Birmingham and Devizes) and the USA as well as some local versions and are predominately diary, farm and marine. The collection was first opened to the public in 1970 with a grand opening by the Prime Minister in 1973 since which it has gained many extra exhibits. It could well be worth a drive from Wellington on Sunday when they are next in Steam. Any local information office should be able to provide details of steaming days but it is still well worth a visit on a normal days when it is almost deserted - we were the only people present for the whole time on both the visits we made although the owners took time to come over for half and hour both times.
By now the temperatures were back up towards 30 degrees so we headed for a camp site in the hills called
Otaki Forks because of a river divide. It is a DOC site down the end of a 19 km road which gets very narrow and is single track gravel for the last 5 kms. The road hugs a steep hillside and we discovered it had suffered a number of serious washouts in a storm in November and the site had been cut off for 4 weeks - it is still an interesting journey! The site is just above the river which has some deep pools suitable for swimming amongst the rapids. The site is surprisingly big and could probable take 50 - 100 groups and is one of the few DOC sites with a caretaker and even some flush facilities although the water is a boil for three minutes job as usual. There are lots of walks although we did not have much time to explore them and it was too hot. We had a quick barbeque with the Red Devil - some glorious filet steak which had been on offer at $15 a kilo at a roadside butcher as we left Castlecliff. It came at the top of the list for steak we have cooked ourselves - done with a few bacon scraps alongside to get some good flames to sear it. Evening fell fast due to the surrounding mountains and the tent was covered in condensation even before we got into it. During the night one could hear a stead drip as water fell from the roof onto the groundsheet at the front, fortunately not on us.
After moving the tent into the sun in the morning to dry it well it was back down the narrow road heading for Wellington. We stopped for a couple of walks we had failed to attempt the previous day and to look at the river and interpretation boards. It is always worth getting the DOC information sheets before going to any of their areas and checking local information as there is always fascinating background. Otaki Forks used to be a thriving logging area with saw mills and several tramways going into the bush. There was even a post office until 1942. Some of the walks go to remains left over from the logging days.
On route to Wellington we stopped at the Lindale centre - supposedly the home of Kapiti cheese. Rather disappointing as it more a shopping centre and tourist trap. You can not even see the cheese being made and the shop charges top rate (although their ice creams are good even if expensive by NZ standards). New Zealand now makes some quite good cheeses but are excluded from competing with the best because of archaic laws which still require all cheese to be pasteurized. They make up to some extent by time maturing and you can get 1994 cheddar from Mainland in most Supermarkets and a 6 year Cheddar from Kapiti. Perhaps the best New Zealand cheese is the Kapiti Kikorangi triple cream Blue cheese. This is unique and in the class of the classics such as Stilton, Roquefort and Gorgonzola and a considerable cut above Danish Blue - what could they achieve if they were allowed to use unpasteurized milk? As an aside it is sometimes possible to get Kapiti Kikorangi in the UK from Waitrose.
We diverted from the main road to the coast and had a few quick swims on the coast facing Kapiti Island - that bit of coast is sheltered unlike most of the West coast. We then drove on into Wellington where we will stay for 4 days looking after John and Blyth's house and cat whilst they are in South Island.
Wellington is a delightful city -
the most pleasant capital we know. It has a small central area and round it many of the houses, like the house we stayed in, almost hang on the hillsides with decks and even carports cantilevered alarmingly from the steep slopes. It is a clean tidy city and not overwhelmed with tourists - most people seem to have a purpose and it is one of the few places in New Zealand where one would only feel slightly out of place in a suit and tie.
The first place we always go to is the DOC (Department of Conservation) office which is in the Old Government building. The office is run by Pearl Hewson who has an encyclopedic knowledge of New Zealand - we met her first two years ago and she could tell us the details of every campsite run by DOC on both islands plus information on almost every other area of interest. We made extensive use of her recommendations and went in to "top up". Unlike last year, when we were disappointed to find she was on holiday, she was available and we picked her brains for over half an hour. She has traveled extensively throughout both islands over 25 years so she has intimate and personal experience of all the DOC National Parks etc. She also recommended to us a number of other camp sites and areas to visit. We have always found her advice to be extremely good, completely reliable and have yet to be disappointed. We prefer the basic DOC sites for camping because of the scenery but we ended staying longer than planned at both of the other places she has recommended. If you go to Wellington a stop at the Old Government buildings is a must to see her - she is a great asset to DOC. The buildings are also very interesting in their own right being one of the largest wood framed buildings made so allow at least an hour and preferably more for the visit.
Highlights of the time in Wellington include walking round the central area with its contrasts between the new blocks and the old buildings and how, in many cases, they blend. The area with the library, art gallery and other municipal buildings by the waterfront is a good example of tasteful merging of the new and old. The new museum Te Papa (My Place)is close by and is in an interesting modern style but has yet to blend fully.
Alongside the municipal area on the waterfront area some small "parks" used for outdoor displays and productions. This time they were creating a display of sculpture and we found several dozen artists carving vast blocks of limestone with all manner of tools both mechanical and power. In some cases parts of the sculpture had already emerged whilst in other parts of the blocks were being attacked enthusiastically with axes, pneumatic drills, saws and hammers and chisels. It is difficult to convey the contrast between a serene head at the top of a block being attacked by enormous swings of a huge axe - I took lots of video and we plan to go back in a few days to check progress.
At the other end of the central waterfront is another pedestrian area full of restaurants round a small marina which had been full of the BT Global Challenge yachts on our last visit. We has a bar snack at 'Shed 5', a converted warehouse with an excellent reputation although a bit outside our budget for an evening meal (although it offers a set 5 course menu for $55). It also has an excellent wine list - both Cloudy Bay Sauvignon Blanc and Chardonnay on the list and actually available. In contrast to the impressive main menu we had two enormous bowls of Kumara wedges with a big bowl of salmon dip for $5.80 from the day board.
In the evening we returned to another interesting watering hole we found a couple of visits ago, namely the Malthouse, which claims to have 30 naturally brewed beers available. It is on a first floor in Willis street and has a big balcony as well as a large internal area. We were there early on a Friday evening and most of the clientele were obviously relaxing after a hard week at the office before wending there way home.
It gave the opportunity for some fascinating people watching, whilst we first had a tasting tray of beers then got down to serious eating and drinking. There was Mr Yuppie in his purple shirt, brown suit and elliptical gold glasses with mobile clamped to his ear rushing round trying to find quiet corners contrasting with serious drinkers, bottle swiggers, office groups in crumpled suits and smart all girl parties. There was Mr Office Gigolo with suit cut so square it almost reached his leer chatting to his mates whilst his hands never stopped moving over his Nordic secretary who took desperate swigs from a bottle until she eventually found a corner to wedge herself in. It was difficult to estimate how many were there - I counted 80 outside at the balcony tables and guess another 200 inside.
The service at the table was both fast and friendly - the waitress said it was a quiet evening compared to before Christmas and advised us well on the beers. Her choice beat the best on the tasting tray by a short head. The tasting tray is an excellent idea and we would have been very happy with any of the beers. In general the beers had the depth and character of the better UK beers but, although brewed naturally, are served fizzy and very cold - many of the taps are covered in ice - it seems appropriate in the summer. The food was as good as the beer and I am sure we will return to the Malthouse on future visits.
We would not want to give the impression Wellington is absolutely perfect, it has the nickname "Windy Wellington"
for good reason and the steep hills give one plenty of exercise as soon as one leaves the flat central business, shopping areas and eating areas to return home.It does help work off any excess of food or drink - the house we are staying in is high on a hillside withstunning views over the town, port and out to the coast which more than compensate for the climb back home.
We spent a whole day at the new National Museum Te Papa which translates as Our Place. We enjoyed the day and felt we had gained useful information at the time and also thought the approach much more dynamic and interactive than most museums - it certainly lives up to the promise of "fascinating exhibitions, interactive displays and high tech fun". My problems started when I came to write it up as I found that nothing really stood out, which is a little concerning. This may have been because we already knew many of the things which were being presented and were possibly concentrating on the approach taken and the techniques used, which included lots of sound and visual effects.
Valiant efforts were made with an outside area representing a bush walk, which would have had far more impact if we had not been on dozens of real walks many with almost as much "interpretation" as the simulation. Many of the rock faces representing volcanic activity such as the "Wacky Wall" were not real and although realistic copies I felt were misleading when under close scrutiny - they lacked the impact of the real thing and the contrast was accentuated by the genuine rocks put alongside.
The Maori sections were much better with a real Marae originating from 1842 and sited for a period in the parliament grounds. Almost everything in the Mana Whenua section is genuine and there were some illuminating videos on Maori culture, history, spiritual roots and folklore. There is also a good section on the Treaty of Waitangi, New Zealand's founding document, which brings out the analogy to the Magna Carta yet shows the tensions and grievances that still resulted. It is worthwhile for even short term visitors to gain some understanding of the Maori culture and the different interpretation that throws on many aspects of life. You should also visit the main museum in Auckland and the Treaty House at Waitangi to obtain a rounded picture of the Maori culture and the background and implications of the treaty.
Te Papa is never a set of dry artifacts and stuffed animals - it is about, once more quoting "a celebration of our people, our land and rich stories of our nation". This is brought out in the division into Exhibitions rather than a series of exhibits. One Exhibition that did remain fresh in my memory was the one called "Exhibiting Ourselves" which covered the inputs to various World expositions from that at Crystal Palace in 1851, through to Expo 92 at Seville, bringing out the development of New Zealand's own perception of its attributes and place in a world context. Live film and the actual publicity film made for the 1940 Centenary exhibition in Wellington had a particular impact.
After a day of culture we went out of Wellington towards Martinborough - the prime wine growing district in the area. On the way we stopped to look at the only remaining example of the Fell engines which used to haul the main line trains over the steep gradients on the passes between Wellington and the North. The Fell engines (named after their inventor) used an extra center rail mounted at 90% between the main rails. This was gripped by additional drive wheels clamped onto either side of it. This enabled the trains to climb the 1 in 15 gradient and, with special brake vans with brakes also clamped onto the center rail, descend. The clamps put a load of 6.5 tons onto each of the 4 extra drive wheels and up to 5 of the these steam driven Fell engines were spread throughout the trains to haul them up the incline. They were in continuous use for 77 years until a tunnel was completed in 1955. The little museum with its restored engine is fascinating and we spent a happy hour and a half, much of it being showed round by Cliff Lee who had organised and managed the restoration. It turned out he was also a pilot trained on Tiger Moths and Harvards and flew the awesome Corsair at the end of the war. We have a signed copy of his booklet on the restoration. One can also walk a 10.5 mile section of the path of the line - we looked at one end but will allow time on a future visit to walk up to the area where the Fell engines were added and then up the incline to the summit.
We continued on to
Martinborough, where we were disappointed that we could not find any wineries doing lunches as in the remainder of New Zealand. We went to five wineries but left two, Ata Rangi and Lintz, immediately as they had started to charge for tasting - we only wish to try a small number of wines primarily those which we might buy in England and not be committed to buying or drinking more than we want or would be wise. We started at Te Kairangi, who we had previously visited. They were once more most helpful and instructive and we bought a Pinot Noir and a Cabernet Sauvignon/Merlot and then had a picnic in their grounds. We also went to Martinborough Vineyard and Palliser, both have lovely sites and were again very friendly and helpful but were only sampling their white wines which, although pleasant, we found poor value compared to their Hawkes Bay equivalents, and without sufficiently unique character to justify the prices. We see the Martinborough wine area as worthy of a stop if you are passing by - the town of Martinborough itself is very pleasant and is surrounded by vineyards. It is not area from which to purchase wines unless you are particular interested in Pinot Noir, where they have an excellent and justified reputation for winning medals, and are prepared to pay a less justified premium of 50% over other regions wines of the same calibre.
We spent the next day more local and went round the coast roads both sides of Wellington. The East side was the more interesting and included a Scenic Drive which had been recommended by Pearl. We also followed her suggestion and went up to the Wind generator and viewpoint. The information boards confirmed how windy it is in Wellington. It has been sited to have good access, so citizens can develop an informed viewpoint for future discussions on the use and siting of wind farms in the Wellington area.
Our last day was spent ambling round the Botanical Gardens and central Wellington with a further lunch in Shed 5 which reinforced our prejudices that it is a good place - excellent Scallops and Mussels from their starters which, with a bowl of Kumara chips, made a light lunch which we took outside looking over the small marina which had been filled with the BT Challenge boats last year.
We strolled back to the park to take a further
,look to see how the sculptures were coming on and we should have some more interesting video clips. We have selected two photographs to try to give you some impression of the power of some of the works and how they are being released from the stone.
In the evening we took John, Blyth and Isaac to another waterfront restaurant called Quayside sited out towards Oriental Bay - first class venison and fillet steaks at prices higher than we have been accustomed to in New Zealand but about par for Wellington and still much better value than in the UK. Blyth had to go to college at 1930 so John took us to one his favourite places, Makara beach, where we had a walk and watched the shadows lengthen - an excellent end to our time in Wellington.