Touring New Zealand 2002


Part 5
Our first night was at the Motueka Top Ten and as soon as we had found our cabin we set up our chairs and table and settled back Glass of Gibbston Pinot with Scallop Pies, home-made in Collingwood and bulging with scallops in Crispy pastry ($3.50!). Once refreshed we unloaded, looked round and quickly discovered that, like many Top Ten campsites there was a free barbecue outside the kitchen block, in this case under a veranda with lots of picnic tables. It seemed pointless to set up the Red Devil so we took our Venison Sausages and salad across.
Whilst we were cooking the owners, Doug and Rhonda came over to also cook a barbecue. They took over at the end of last year and it is now the latest and 47th Top Ten. Doug and Rhonda who have been in the game for a long time and Rhonda was one of the steering group which made the transition of the Top ten group to being a 'franchise', I have put in inverted commas as the meaning is a little different to the UK meaning. The changes took place several years ago and not only gives much more marketing opportunities but also makes it much more a question of what members can offer to the group than what the group offers to members. We spent a long time talking to Rhonda and gained a lot of insights in the Holiday Park trade.
The Motueka Top 10 Holiday Park (formerly Fearons Bush Holiday Park) has a lovely Parkland site amidst a large number of mature specimen trees, both exotic and natives. We had a cabin which, like Murchison, originated from PWD (Public Works Department) staff accommodation, in this case from the Cobb dam, a local hydroelectric scheme.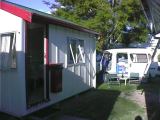 The cabin was simple but clean and we much prefer something which has some history rather than the standard sterile modern boxes which most tourists are expected to prefer. As a new TT holiday park on a site on leasehold from the council they have their work cut out to implement the changes they want and be ready for the inspections for the Qualmark ratings etc. required as conditions of TT membership especially as the previous operators had known their lease was unlikely to be renewed and had made few efforts to improve matters. We can however recommend it and would have stayed longer if we had not already made one of our rare advanced bookings at Kaiteriteri for the next day which was Waitangi Day and hence likely to be impossibly busy. We will undoubtedly go past and see the changes and hope they will still retain and exploit some of the historic aspects as well as the super site with all the trees - Rhonda took us in the morning to see one of the best examples of a Tulip tree in NZ and pointed out many others including a Kauri at the transition stage and just starting to spread at the top, and shed branches and thicken at the bottom. No chance of changes in that area - the pride was evident!
Somewhat reluctantly we moved on to Kaiteriteri to a camp site we have used before - we had a much better cabin than we had expected and the camp site is right opposite one of the best (and most popular) small beaches in South Island. There was not a cloud in the sky and we spent as long as we dared poaching on the beach with occasional dip to cool down. The beach was packed by NZ standards with probably 500 people but still empty by European standards. Last time we gathered mussels off the rocks at the end of the beach at low tide and cooked them in the lee of some rocks on a stove.
We decided to stay a second day so we could do a trip by boat into the Abel Tasman National Park and do a part of the famous Abel Tasman Coastal walk, one of the Great Walks series. We booked a boat which took us up to close to the far end then dropped us for a few hours before being picked up a few bays further along - we thought it would be an ideal way to get an overview.
People dream about places like the Abel Tasman - golden half-circles of sand, warm watered coves , with shady forest leading right down to the beach.
Bushy islets dot the shore and rocks make strangely pleasing shapes. The boat trip took us up to Totaranui, the usual starting point for the Abel Tasman Coastal Walk although it should really start at Wainui and continue round Separation point to Totaranui. We then went back to Bark Bay where we got off and walked for a couple of hours to Torrent Bay where we were picked up again by another boat to get back to Kaiteriteri.
It was a pleasant cruise in and out of the various bays and past Tonga Island to see the seal colony. There were various 'stops' where the ships tender, a tinny carrying up to 10 passengers towed behind took people and supplies in and out of various of the DOC camp sites and lodges. The area is also well known and exploited for sea kayaking and the ship had racks on the side for carrying the large two seater kayaks and there were also another half a dozen inside. When we got to Onetahuti these were all dropped over the side to drift to the beach whilst a number of people were ferried in the tender to shore for a one day kayaking 'adventure' where they paddled across to Tonga Island to visit the seal colony.
Another feature of the trip was that at various stops luggage was collected and deposited in special (waterproof?) bags for those doing the guided walks - those on guided walks stay in special accommodation and their luggage goes ahead to avoid them having to carry packs. It looks from the brochures as if they spend 5 days with three walking a small part of the track for as much per day as it costs us to charter a yacht - there are some born every day. You can also do exactly the same sections by kayak which does have more of an appeal. The overlap presumably means that whenever the sea is rough you have to hoof it!
The serious trampers with their heavy packs got off at Totaranui (Big Totara). This was quite an experience as there was a reasonable swell and they could not get the tender in to the beach and we could see it being tossed up at 30% time after time as the crew fought to haul it in close enough for the trampers to alight. They eventually found a calmer corner and carried they packs ashore for then whilst the trampers wadded in through the surf. It was all very reminiscent of when Pete had the tender flipped taking Kev ashore near Whangaruru. The trampers looked almost as wet as Kev and Pete felt much better.
This meant we were running 45 minutes late for our drop off at Bark bay for the walk. We had various estimates of the time needed to walk to Torrent Bay where we would be picked up ranging from 2 to 3 hours.
We had exactly 3 hours left to complete it. The DOC sign on the beach said 2 hours 15 minutes and their estimates are usually a bit longer than we achieve so it looked promising - we did not really want to sample one of the many huts or campsite with nothing but a pullover, kagoule, water bottle, packet of ginger biscuits, and survival blanket! This meant we did have to set a fair pace and not spend long looking at the views and taking the short diversions down to some lovely looking beaches. The track is very good and there is a high level of traffic - we probably saw several times the number of people in two hours than we have seen on all our previous walks this holiday.
The gradients are very low and the track more like a path - most of it could be done in a wheelchair with perhaps a dozen narrow climbs or sections where there were still few rocks and boulders - very like a DOC 5-10 minute interpreted walk. It was much easier than the Guernsey cliff path and further inland for much of the section we did. It is also not entirely native bush - much of the Abel Tasman has been cleared by fire in the past and gorse has a tremendous hold although the regenerating forest is expected to eventually throttle it. It is a 50 year plus regeneration task which could be easily reset by a single fire, as has happened in a few places. We crossed the Falls river on a swing bridge - they are quite fun although this one was more stable and protected than some. There was what looked like a tiny swimming hole at another river crossing called halfway pool - we are not sure where it is half way between.
We got to Torrent Bay ten minutes under two hours so we would have had time to do some of the side trips and have a swim. I think our time is an indication of how easy it is as a walk rather than our fitness.
Torrent bay is full of private houses and we assume they are also expected to be suppressed by the regenerating forest although they are fighting back with private signs - not what one expects in a National Park. The next bit of the track involves a beach crossing which is only open close to low tide and we watched a few trampers up to their knees walking across to Anchorage - they were on the limit recommended and the tides are as high as anywhere in NZ, up to 4.8 metres at Springs, so it is easy to get caught out. We had been lucky with weather - it was dry with some sun on our section although there had been rain up by Totaranui.
The following morning the seas were up and some of the trips seemed to be cancelled and when we left one of the boats was still bobbing up and down at anchor half full of people who had been loaded by tender and it was already an hour after they were due to leave! We succeeded in persuading another camp site to let us use a phone line to get out the newsletter which had been waiting for a few days and left for the Marlborough Sounds via Nelson.
Nelson is another of the well known wine growing areas but one where we have not sampled the wines so we were looking for after discovering their excellent Gewurztraminer. We had also discovered they had opened a vineyard restaurant. The only problem was we had no idea where they had moved to when they had opened the restaurant and a new winery. We were very fortunate and whilst heading into Richmond to find an information office to locate them we drove past the vineyard.
We had a very good tasting Seigfreid's vineyard where we tried a number of pairs of wines, we find that to be a very good way of tasting. We tried two Gewurztraminers, the reserve dry and the standard slightly sweeter version we had in the restaurant earlier - both were very good and typical with the reserve having more character and zest. We then tried the two Rieslings , as regular readers will know we are not great fans of most NZ Rieslings as we prefer the German style with a little juice held back to give the bouquet and fruit. In this case the Rieslings had much more of the 'grass' aroma of a Moselle, in particular the reserve which was slightly sweeter and very acceptable and the standard dry was quite drinkable. Finally we tried two reds, the Reserve Cabernet Merlot versus the standard unblended Cabernet Sauvignon. The Cabernet Sauvignon had a lovely Eucalyptus flavour after a period in 1 and 3 year American and French oak - we stocked up with a couple and the Reserve Cabernet Merlot was appreciably better than the standard which we had drunk as a bottle the previous evening.
Overall a very interesting tasting and unlike many wineries they had all the wines available to taste including the reserves - in Seifried's case the reserves are all called Winemakers Collection, I have used reserve above to avoid (or perhaps cause) confusion. The Rieslings were good enough to overcome most of our prejudices against NZ Riesling and even to buy for the right occasion. The Gewurtztraminers were both very good and we bought on the spot as we did the Cabernet Sauvignon.
Pauline completed the trials with a Cellarmaster's Reserve Pinot with lunch, another prize winner and one of the best Pinot Noirs we have tried this holiday and comparable with our other favourite from Pegasus.
The meal was also a winner - Garlic Bread from a roll with cuts full of lashings of garlic butter. For the mane course we both had the Winemakers Whim - Baked fish of the day, in this case Terakihi on an excellent tomato and onion salsa with lemon oil and rice.
We both fell for the Lemon tart, again excellent in the lemon curd style. The service was very good and friendly and the waitress was also very well informed about all the wines. The buildings are new and spacious with room for functions - we ate outside and there seemed to be at least 15 outside tables all with sunshades and trees surrounded by the vineyard. This has moved straight into our list of vineyards and winery restaurants to visit for both good informed tasting of an excellent range of wines and the quality of the restaurant surroundings and food.
Whilst we waited for the restaurant to open we went down to the end of Redwood Road where Seifried's are sited to Rabbit Island and found an excellent large reserve with lots of tables and facilities and a very calm beach for swimming, the only disadvantage being a shallow slope meaning a long paddle at low tide - just right to get an appetite.
We decided to ring ahead to an old favourite, the Te Mahia Bay Resort in the Marlborough Sounds,
actually it is on Kenipuru Sounds, and were delighted to find they had a room for a couple of nights. We have used it as a base in the Marlborough Sounds several times. They have a small number of motel rooms (11) and a similar number of caravan and tent sites in a spectacular setting on Kenipuna Sound.
We always remember the first time we came - after a while we went back to reception and said "you forgot to give us the key" - the answer was the key had gone missing 3 years before and nobody ever locked anything up anyway! The 'units' in the old building, which we prefer, are actually rambling suites with several bedrooms kitchens, lounges bathroom etc - the first time we thought the interconnecting doors were open but were told it was all ours. Everything is provided, from fridge freezers and Bodems in the kitchen to big baskets of towels covered in fresh rosemary in the bedrooms. It is very much like being in somebody's home with old pictures on the walls and flowers in the vases.
We booked in for the two days they had the unit available and settled back to enjoy ourselves. The fishing gear was unpacked for the first time as there is a wharf at the end of their private beach for water taxis. Many of the houses in the Sounds are only accessible from the sea so water taxis are an essential part of life. The fishing gear was all in perfect condition thanks to some magic gunk we had sprayed everything with. We only caught a couple of Spotties, fish most suitable for bait, the first evening but it did prove everything was working.
The following morning was clear blue and very still so we thought we ought to try the resorts Sea Kayaks for a couple of hours. They were the sit-on sealed type and surprisingly stable. We worked our way out past a series of tiny bays with golden sands nestling in the bush covered hillside. The large ones had houses or cribs and the smallest were deserted with mussel and oyster coated rocks at either end. Pete touched shore in one perfect miniature bay with a sandy beach hardly long enough to put the kayaks end to end. We went out far enough to round a couple of fascinating shaped islands before working our way back in and out of the bays and rocks. It was idyllic with only the occasional wash from fizz boats to disturb the tranquillity - a perfect introduction to kayaking and a new set of muscles we never new existed till we got to shore and tried to stand after three or four miles paddling.
We recovered in the sun and tried our luck briefly off the wharf without even a nibble. This seemed a good excuse for a late lunch of Garlic Bread accompanied by a bottle of Lindauer fizzy to celebrate our safe return. We settled at one of their picnic tables under a big canvas awning looking out to a marvellous view of the Sounds - a perfect start to an Afternoon.
We eventually surfaced from the lethargy enough to return to the wharf - by now it was a more promising time in the early evening with the tide coming in. Pauline spent a happy 15 minutes gradually bring in what turned out to be a 4 metre long log. Shortly after that Pete's line took off and after a while gradually bring it in we could see he had an Eagle Ray on the line. It quickly tired but we were unsure of how to land it on the wharf as they had very nasty tails which can cut one deeply - fortunate someone on a boat saw our plight and rowed over with a big vicious looking gaff which he speared it with and we managed to cut the tail off without injury. Overall a day to remember.
The Te Mahia Bay Resort goes back to 1900 and they have a large number of pictures showing the history but they nothing in writing. We quizzed the owners and it was extended to have a double level set of rooms in a large wing in 1930 and the main residence gained an extra floor in 1948. There are some good pictures of it in that configuration and in excellent condition taken in 1955. It then got very run down and the end block was deliberately burnt down. More recently a new luxury block has been built slightly further back on the site of the old tennis court. Te Mahia translates as "indistinct sounds" which is very appropriate. As well as Kayaks there are also 'Tinnys' with outboards if you want to go fishing and a comprehensive library if you want to do nothing. The shop has a sensible collection of food such that there is no real need to leave for provisions during a stay. Many groups return every year at the same time and they never need to advertise so they can be difficult to find unless you pass by.
The morning we expected to have to leave we went book use of a tinny for a couple of hours and checked if there had been any cancellations - we were delighted to find somebody had announced only five minutes before that they had to leave so we could stay another night. We waited for the tinny to come back from an early morning fishing trip then set off to explore a bit further than we had with the Kayaks. We ended up out for nearly three hours and covered down to the end of Broughton Bay, and then out round Snapper Point so we could see down the Sound. We then went down the Sound to just short of Portage. We had one planned stop to refuel in a little sandy bay where the outboard was reluctant to start. The next time when it ran out it restarted instantly to our relief. Pete had already declared it was a typical two stroke - and showed his chauvinism by declaring all two strokes are female - his description of that one after try to start it for nearly ten minutes the first time is best left unwritten. We should note that they took it out of service and replaced it with their spare outboard before it went out again - it was not just us.
During the rest of the day we just sat around, fishing was out as we already had a huge amount of Eagle Ray, painstakingly skinned ready for supper. Pete found a book in the resort library covering the early history of New Zealand by an ex minister of education and Labour written whilst he was Agent General for New Zealand in London in 1898. It gives a very different picture to most of the modern books which tend to gloss over the facts like the widespread Maori habit of cannibalism prevalent when Pakeha arrived and for a considerable period afterwards. The book has none of the political correctness or perhaps one should say convenient corrections of the later books covering the way New Zealand came into being and the Treaty. It is called "The Long White Cloud" by William Pember Reeves published by Golden Press ISBN 0 85558 293 6. The fourth edition sees to have been published in 1973 with the last edition (3rd) revised with and by the author being in 1924. The final edition (4th) is still mostly original unchanged text with a discrete final section covering the last 50 years was republished in 1973 in a series of Classic Books of New Zealand which we must look out for.
Having read most of the book it was time to try cooking the Eagle Ray - we had received lots of conflicting advice on how to deal with it. The only common point was that one only eats the wings! It seems to be one of those fish which should be left for 24 hours so we had already cut off the wings and cleaned off the worst of the slime which covers a ray and probably tastes foul as it is designed to discourage predators. Ray are very old fish and have no bones, only cartilage. We left it overnight soaking in the fridge and then skinned the pieces in the morning and again left them to stand in the fridge till the evening. All the vague but unpleasant aroma had now gone and they just smelt of nice fresh fish. This standing we have heard is to get rid of the iodine they contain (but where does it go?). We then fried it in olive oil and it was delicious, much better than we had expected and almost identical to the skate one can get in Guernsey. It was so good we cooked the second portion and ate it on the spot. It was helped along by a bottle of Cloudy Bay Sauvignon Blanc, our last, but we hoped to be able to replace it at the vineyard the next day.
We reluctantly left Te Mahia after three days. Packing was a nightmare as it had started to rain so hard Pete gave up and put on swimming trunks. We immediately headed for the Blenheim area using the excuse we should go back to Cloudy Bay to try the 2000 Pinot Noir and their latest release, the Te Koto special Sauvignon Blanc and perhaps a vineyard lunch to follow.
I have written quite a lot about vineyards and vineyard restaurants as we have been travelling round but held most of it back till I could find time to write an overview of New Zealand Wine and comparison of the vineyards we have visited. Rather than take up space in the travel section I have moved it to a new page covering New Zealand Wines, Wineries and Vineyard Restaurants which brings together all the background on new Zealand Wines along with our favourite vineyards to visit. Selection is not solely the on the quality of the wine but is biased towards those with good vineyard restaurants, magnificent scenery and a friendly and helpful approach.
This only leaves me to fill in a bit about our second visit to Marlborough before leaving South Island. Marlborough, you will recall, is the home of some of the most famous New Zealand wines such as Cloudy Bay, whose Sauvignon Blanc is now a cult wine in most countries and strictly rationed in many wine shops.
This year we found Cloudy Bay were releasing the first of their new style of Sauvignon Blanc, with much more maturing in Oak, under the name Cloudy Bay Te Koko. They say the philosophy behind Te Koko is very much 'hand off' and comes from winemaking curiosity. After harvesting and pressing the wine is transferred to French Oak barrels and allowed to undergo a primary fermentation using naturally occurring yeast, in itself quite a deviation from current practice. This is followed by a full malolactic fermentation the following spring. The wine remains in the barrels on the lees for 18 months before bottling and is left to mature for at least another 2 years before release. This produces a full-bodied alternative to the usual Sauvignon Blanc style - a complex and savoury wine that is designed to be deliciously aromatic and richly textured. We can not wait to try it.
We enquired about the name and were told that the bay at the extremity of the Wairau Valley, named Cloudy Bay by Captain Cook was originally known as Te Koko-o-Kupe by the Maori people of the region. Legend has it that Kupe, the original explorer from Polynesia, dredged for oysters in the bay and Te Koko refers to the scoop used by Kupe to lift the Oysters from the seabed. We found the new Te Koko Sauvignon Blanc very different to the conventional style and, although relatively expensive was good and different enough to buy a bottle to access at our leisure. We also had our first chance to try the Pinot Noir, which we found dificult to access so we took a bottle away to try against other favourites such as that from pegasus.
As on most visits we then moved on to another of our favourite vineyards - Allan Scott - which not only has excellent and award winning wines (which you can sometimes get in the UK) but also has a very good vineyard restaurant called the Twelve Trees after the trees that shade it. On our way back to the ferry we had for lunch an excellent Blue Cod in a very mild Thai sauce with Jasmine Rice. We had a glass of their Chardonnay with lunch and it was so good we stocked up with a few bottles before leaving .
The problem now was where to stay. We want to be fairly close to Picton for the ferry the following day and all our favourite places were a long way off. It seemed best to stay near Blenheim so we found a cabin at the nearby Spring Creek Kiwi Holiday Park. It initially seemed to have little going for it but turned out to be quiet, clean, cheap and in the right place - a very acceptable stopping place for the vineyards. It is also a good base for fishing the local trout filled rivers - the next cabin had a party of French fishermen that Pauline practised her French on.
In the morning we went to Cairnbrae, another favourite vinery with restaurant well worth a visit.
Cairnbrae started many years ago as contract growers for Cloudy Bay then set up themselves. The wines which were every bit as good as we remembered. We tried 'The Stones' 2001 Sauvignon Blanc, a very clean and harmonious wine and a perfect example of Marlborough Sauvignon Blanc from unprecedentedly hot and dry summer. We tried the 'Clansman' 2001 Chardonnay from handpicked grapes which were bunch pressed followed by barrel fermentation in American oak follow by ageing on the lees for 10 months giving excellent weight and balance. We also tried the 'Old River' Riesling which, despite our prejudices for the German style, we had to concede was quite nice and the 2000 Noble Riesling sticky from botrytis grapes was first class - the grapes were harvested in a cool autumn evening and held in the press overnight - full of flavour and honeyed without being cloying sweet, a rich golden colour and very clean taste.
We spent a long time talking to Lindsey about what had happened since our last visit. The vineyard has now been acquired by Sacred Hill but the new winemaker has overlapped for a period and we were glad to hear he intends to keep to the same styles. We left with bottles of the Sauvignon Blanc and a complementary bottle of our favourite, the Chardonnay to try.
Unfortunately we found the restaurant is closed Monday and Tuesday lunchtimes out of season so we went to Wairau River which also has a well thought of restaurant for lunch. We tasted a number of the Wairau River wines which are available in the UK from Direct Wines (Bordeaux Direct under yet another name which is just down the road from us at home) and picked a 2000 Reserve Sauvignon Blanc, lightly oaked, to go with lunch - I will not go into all the wines as we have been told they have a web site at www.WairauRiverWines.com which will always have the latest and full tasting notes of all their wines.
During our tasting and ordering of food we met Chris Rose, although at that point we did not know she was the owner of Wairau River, who stood out by the way she spoke with obvious passion and authority on the wines. We continued to speak at various times when she was free and we leant a lot more about the way the methods they employ at every stage in training, pruning, picking, fermenting and maturing their wines to obtain wines in the best Marlborough traditions but with their own distinctive style. Chris and Phil were just back from a tour in the USA and have recently spent time in London spreading the word about their wines.
Wairau River is very much a family enterprise and they have grown from a small start growing under contract to Montana. They were largely instrumental in opening up perhaps the best known part of Marlborough to vineyards against strong opposition and their vineyards have now grown to 300 acres. They are very proud that their son has just completed his Bachelor of Viniculture and Oenology at Lincoln - one of a small number in the first intake. This is the first degree in winemaking to be offered in NZ and is run by Lincoln in association with the Marlborough Wine Centre of Excellence at NMIT.
Wairau River also have the Shingle Peak and Foxes Island wines and are part of a co-operative that have set up a new state of the art vinification plant just across the road from their winery.
Wines alone are rarely enough to merit a visit and Wairau River also have an excellent restaurant
with indoor tables and outdoors ones under wide verandas, umbrellas and a vine covered trellis. Pete had a nice oak smoked salmon on a potato gratin with crisp salad and Pauline had the sage and mushroom stuffed chicken to a special recipe from a NZ chef who is now in Notting Hill London. The cheesecake was one of the best we have had, an excellent cooked lemon and lime cheesecake on a ginger biscuit base. Everything is made on the premises and there were nice touches like individual tiny dishes of salt and pepper with the main course and jugs of cream with the sweets.
For completeness I should also say that we have, in the past, also been to Hunters, another Vineyard within a stones throw of Cloudy Bay. It has an excellent reputation and their wines are freely available in the UK but we slightly disappointed at the tasting. It could well be that the sample bottles had been open for a while - at Cloudy Bay they always open a fresh bottle every day regardless how little has been used (and taste it just in case). Unlike the others Hunters sold us none.
This second period in Marlborough has given me a considerable problem as my intention had been to limit my selection for visits in South Island to 5 or perhaps 6 and I now have a new addition in Wairau River to add to the old favourites in Marlborough of Cloudy Bay, Allan Scott and Cairnbrae, plus the choices in Waipara, Otago and Nelson regions covered earlier. The only solution is to come back next year for a more critical assessment!
Before leaving Blenheim we went round several second hand book shops looking for 'The Long White Cloud' by Reeves we spoke of earlier without success but now have a collect of several other books from the same series of reprints of New Zealand Classics from the same time period and a old book on Gold Mining "Kawarau Gold" by R S M Sinclair published by Whitcombe and Tombs in 1962 - we will need a lot of wet days to settle down to read them.
We got to Picton a bit early and went out to the Karaka Point Reserve -
it is a good place to use any spare time before catching the ferry. There are walks to a historic Pa (fort) taking 20mins and down to the beach (10mins). Even from the car park there are magnificent views. It is only 10 kms from the ferry but it is a very windy road so allow 15 minutes each way.
As we got back we could see the Lynx in the distance and rang to confirm to John and Blyth we were on our way - Blyth however warned us we could be in for a rough crossing as the Southerlies were building rapidly - The next part will start with what Southerlies meant in practice, assuming we made it!