Touring New Zealand 2001


Part 2
Napier now known as The Art Deco Capital of the World started life as a copy of an English seaside resort, renowned for its warm sunny climate, location in Hawkes Bay and its Marine Parade lined with tall pines. It had fine hotels, botanical gardens and bands playing in a rotunda in the square. All that was to change at 1045 on Tuesday, 3rd of February 1931 when a violent earthquake struck - in less than three minutes Napier crumpled to ruins. Both Chemist shops caught fire an a brisk easterly wind spread the flames. The earthquake destroyed almost every water pipe and the fire brigade could do little and only a small area was saved from the flames. The earthquake registered 7.9 on the Richter scale and 258 people were killed mostly by falling masonry from highly decorated buildings with overhanging structures.
Napier the Victorian town was gone and England offered no inspiration to the rebuilders with their clean slate in 1931 but the architectural journals of America were full of interesting ideas in particular Modernism which we now know as Art Deco. Nowhere else do we find so many similar style buildings built over a period of only a couple of years to a common plan. Many of the buildings remain and even
in the time we have been going to Napier the restoration and painting has further enhanced the city. It is well worth staying in Napier for a day or two to savour the atmosphere. It is also an excellent centre for the Hawkes Bay area, famous for its wines. There are references to an excellent book on Art Deco Napier and links to web sites on our site - search for Napier or Art Deco.
The camp site (Kennedy Holiday Park) is a long walk and had no cabins and it was late with a poor forecast for overnight so we went to a motel called "City Close" which was close to the city centre. We spent a pleasant morning looking round the Art Deco buildings and photographing them before going to Crab Farm, a winery just outside Napier for an excellent lunch and the chance to try their wines. The previous visit had impressed us with their Sauvignon Blanc and Chardonnay, especially their late picked "stickies" which we took back to the UK to taste against the German Beerenauslase equivalents. They now have Cabernet Sauvignons and other reds available and we were sufficiently impressed to buy a few bottles of the Cabernet as a basic wine for when we go sailing. They also have a limited production of Jardine Cabernet which we did not get to taste this year. The main vineyards are planted on ground which was under the sea until it was raised by the Hawkes Bay earthquake hence the name Crab Farm.
We then travelled on to perhaps our favourite vineyard for red wines - Esk valley. Unlike many of the New Zealand vineyards we like Esk Valley export to the UK. We have normally bought their various red wines, Cabernet Sauvignon in various blends with Merlot and sometimes Cabernet Frank. This year the red wines were in short supply but we were very impressed with the 2000 Chardonnay Black Label which we were told caused considerable internal argument as to whether it really deserved a more prestigious Reserve Status - it is excellent value and we stocked up. We were also fortunate to have a long chat with the sales manager Sue and to tag onto a tour round the facilities and to learn a lot more about their production techniques from hr excellent and enthusiastic exposition. All the pressing and fermentation and maturing in a variety of French and American oak barrels is done at the Esk Alley site.
It was interesting to see and learn about the various oaks used and degrees of toasting employed to get the best from every batch and parcel of ground by their master winemaker George Russell. Esk Valley is now part of a group with Villa Maria and Vidal and the bottling and shipping is jointly organised providing economies of scale without any sacrifice of quality or style by the partners.
We set off from Napier heading for the beaches of the Mahia Peninsular but the weather was against us. The winds were gale force and above blowing trees down across the roads. We stopped briefly at Lake Tutira where we have camped several times and the lake looked more like the open sea with waves breaking over the pitch we last used - not good. The Mahia Beach camp site was a bit better and it would have been just possible to erect the tent but it was threatening rain and the camp site was full of children unable to go onto the cold and windswept beach so it seemed prudent to continue on to Gisborne where we could look round the town which we seem to have missed in previous years and also investigate the surrounding vineyards.
Gisborne's main claim to fame is that it is the first city in the world to see the sun. The Maori name for the region is Tairawhiti which translates as "The coast upon which the sun shines across the sea. Kaiti beach beside the city is where the Maori Waka Harouta landed carrying the first immigrants and was also the site of the first European landing by Captain Cook who sailed into what came to known as Poverty Bay in 1769. It would seem that Captain Cook misunderstood the ceremonial and fierce traditional welcoming rituals of the Maori and employed his superior firepower before leaving hastily and without fresh provisions hence his calling it Poverty Bay.
The European settlement started in 1831 was originally called Turanga based on the Maori Tuaranganui-a-Kiwa - "The stopping place of Kiwa" and the river is still called the Tuaranganui. The settlement had to be renamed Gisborne after the Colonial Secretary at the time due to a perceived confusion with Tuaranga in the Bay of Plenty.
We stayed in a cabin at the motor camp close to the centre of town - a good choice as the weather was steadily deteriorating with winds again reaching gale force. The cabins were basic but cheap and the kitchen facilities etc good. We walked round town before supper which was complemented by the best of the wines we had purchased at Morton.
The Morton Riverview 1997 Hawkes Bay Chardonnay is from a parcel of land nestling in the warm river terraces. The well drained soil ensures Chardonnays of intense flavour, elegance and finesse. The 1997 exhibits ripe fruit flavours of peaches and melons along with creamy vanilla oak aromas from barrel fermentation complemented by a partial malolactic fermentation winning it Silver at the New Zealand Wine Society Easter Show amongst other awards. Tasted quite nice as well - we will stock up for boating.
We took some pictures early in the morning of the Captain Cook Memorial, a huge globe of granite inscribed with the routes he took on his three voyages round the world - awe inspiring in those days in ships of only about 400 tons. I have a picture recording the words which I will transcribe into the web version as they are more explicate about the initial contact than mine above.
We took the high road through Te Reinga down to Wairoa for the first time and it not only went trough some magnificent scenery but was also almost deserted. Part way we met a farmer on horseback with his dogs herding sheep along the road and other than a few workmen we only saw two or three cars in the hour all taken to Te Reinga. The views were great - not the small areas you can capture on film but broad canvases from horizon to horizon.
There are some river gorges and mudstone cliffs towering over the road and some times falling onto it. A baseball sized rock hit the road just in front of us and we looked up to see a goat leering down from a near vertical face above us. We also turned off at Te Reinga where a sign marked falls and found a set of magnificent waterfalls with a viewing platform from a above a and scramble down to look from below. An old picture shows they were an early and now forgotten tourist attraction.
The day was cloudless and the winds had dropped unlike the previous two day when we read that the BT Challenge boats had faced 140 km winds entering Wellington harbour. We therefore decided to stop at Lake Tutira, another basic DOC camp site, currently free but not to remain so for long. It was deserted - everyone had been forced out by the previous days of onshore winds.
Lake Tutira is about a mile and a half long and we camped on one of the two pitches just after the gate. We are a few feet from the water with a view which defies any description over the lake and a huge variety of scenery. We are camped under weeping willows and the lake is covered in Australian Black swans - neither are natural to New Zealand and in some places Willows are being actively suppressed as they are displacing the natural trees such as Pohutakawa on coastlines.
I took a swim off the sand bottom in front of the tent amongst the black swans. The water was quite warm and the only problem was it shelved very slowly and once it got waist deep one was into deep weed on the bottom which one had to swim out over. We were told the weed has come since the extensive use of fertilisers on pastures which eventually drain into the lake.
As I am writing this a Pukeko has just walked down to drink and a little white shag, no larger than a grebe has swum past. A New Zealand Scaup is preening on a branch 20 metres away and fantails flit by. All of those are local. In total we have observed at Lake Tutira: Scaup, New Zealand Grey Duck, Australian Black Swans, Little White-throated Shags, Black Shags, White Faced Heron, Pukeko, Fantail, Thrush, an Australasian Harrier, a Pair of New Zealand Pigeons, and a Kingfisher as well as the common imports - swallows, mallards and sparrows, magpie and starlings. Strangely we heard no Moreporks overnight or Tuis and Bellbirds in the dawn chorus. I have decided that in due course I will add a page to the web site on the more typical local birds one sees or hears in New Zealand and will gradually introduce some of the more unusual birds in these newsletters.
It may seem strange to start with the Australian Black Swan - an import and is some areas displacing natural birds but there are dozens in view and they are very distinctive and unusual in Europe. They are about the same size as the common mute swan but the voices are different and include a wide series of tuneful honks and cheerful chortles as well as deep load note just like a foghorn. The plumage is deep black with a "frilly" crinoline appearance to the feathers. The beak is an intense red with a 1 cm white band across it just before the end and the eye is also red. When they fly, which the do more than the mute swan, they display pure white flight feathers - very dramatic. When they are head down foraging as most are in front of me they reveal a greyish underside. Overall a very distinguished looking bird and one can see why people brought them from Australia. You will see them on many lakes in North Island.
In the evening we sat looking at the magnificent view sampling another of our purchases from Morton, a 1999 Marlborough "Stone Creek" from a vineyard set in the heart of the Marlborough region with deep, free-draining shingle soil. The 1999 season produced fruit of excellent ripeness. The wine has aromas of gooseberry and passionfruit combined with classic herbaceous characters producing a wine of exception quality and winning it a Michael Cooper wine review **** and a Bronze at the Liquorland International Wine Competition in 2000.
In the morning of the second day we walked round the small adjacent lake and then decided to do the two hour Pera loop track which took us high up above the lake with some spectacular views before dropping down to the main camping area and back along the lakeside. It was well marked with a series of red toped poles, perhaps because most was over private ground. It was a sandals class walk but with some long steady climbs. We took another quarter hour over the forecast two hours but we did send a long time looking at and recording the views over the lake.
It was then time to sit and soak up the sun and time to describe another local bird the Pukeko which we saw again beside the lake - a pair with four chicks. The Pukeko is very much a native bird with vivid colouring and ungainly motion mostly seen on foot near water in swamps and rushes. It is plump and almost the size of a chicken and being member of the rail family bears some resemblance to a an overgrown and brightly coloured coot. The breast is an Indigo Blue with a black back with a short flicking white tail underneath. It has very long red legs with long unwebbed toes, and an ungainly gait. The red beak is large and stubby and continues into a red frontal shield over the black head with red eyes. We have rarely seen them fly and the flight is aptly described as unsteady in one of our bird books. The call is load, harsh and discordant. They are quite common and will meander over paths and even roads in front of one.
In the evening we once more looked through the superb pictures in the "New Zealand from Space" book Jenny and Kev gave us for Christmas. It gives a real insight into the landscape and definitely one for recommended reading list. The appreciation was helped by a bottle of the Cabernet from Crab Farm - as good as we had anticipated and such a dark colour the bubbles from pouring were purple and it left stains on our new bargain table in the seconds it took to reach them - must get some more on the way past.
The following and final morning at Tutira was incredible - water so still that one had reflections. We sat mesmerised by the Little White-throated and black shags diving in front of us without even leaving a ripple behind and returning to shake their head, swallow their prey and once more do their disappearing act. A White faced Heron flew a circle a few yards in front of us landed so close we could get video filling the viewfinder as it struck at fish after fish before slowly paddling into the distance through the reeds.
So what can follow such paradise? From the sublime to the ridiculous we visited the winner of the Fish and Chip Shop of the year 1999 on the edge of Napier and had Blue Cod and Tarakihi cooked to order in a sublime crisp batter, which we took down to a beach reserve to eat. We did not even realise that there were beaches on that stretch in from the vineyards but there it was, sandy, calm and too inviting to miss a short swim before heading back to the same row of shops for a large ice cream to round it all off. New Zealand Ice Creams are almost a reason to visit the country - huge scoops full piled on top of each other for ridiculous prices - we have had doubles for $1 in some places and $1.50 is not unusual for as much as any reasonable person could eat.
The day was glorious and we were in no hurry so we thought we would take the slow road out of Napier to Taihapi a 140 km Heritage Trail, partially gravel, going over Gentle Annie. We first heard about it several years ago from some other campers at Tutira who sent us some information sheets to England.
It is now one of a network of Heritage Trails which are sponsored by the New Zealand Visitor Network and the local District Councils. They all have information sheets and the main features are numbered and often have display boards on the ground giving something of the history etc. Their markers use cream/pale yellow letters on a, usually very faded, teal green background so are easy to recognise as are their information sheets which have a similar colour scheme.
The route which we know as "Gentle Annie" is officially known as the Inland Patea Heritage Trail and crosses the Dividing Range through an area of great natural beauty and historic interest where earth movements have created unusual mountains with limestone scarps with natural forest. It started as the route of an old Maori Trail from the East coast to the centre of North Island. In the 15th century one of the most famous Maori leaders Tamatea Pokai Whenui (Tamatea means he who explored the land) arrived in NZ on the Takitumu canoe and travelled the trail with his son Kanungunu. Many of the place names near the trail are called after the animals he carried in his basket.
Latter Patea, a Maori living at Manawarakau travelled the trail. Legend says he went on a hunting expedition for a long time and returned with a poor bag to find his woman had filled his storehouse. Her incessant nagging on how poor a hunter he was led him to take her for a walk off a cliff. Rather than face her relatives he fled into the wild country west of the ranges where he remained in what came to be called Patea's Country, a huge tract bounded by the dividing Ranges, Mount Ruapehu and Taihape. The Name gained the Inland to avoid confusion with the town of Patea. For 50 years the Inland Patea's main port was Napier and everything was Packed on horses over the ranges. By the 1870s the Inland Patea had vast Stations with Merino sheep and transport was a tremendous undertaking - typical stations could be sheering up to 75,000 sheep and packing the wool over the ranges. on strings of pack horses. The strings were hundreds strong with one man to each string of ten. Mules were also used and one in five animals carried provisions and fodder for the trip. Each pack animal carried 200 pounds (91 kgs) and riding ahead were hunters with dogs providing fresh food.
It was a dangerous job and it was not unknown for animals to lose they footing on the narrow rocky path over the precipitous "Gentle Annie" and plunge to their end in the Ngaruuroro Gorge a hundred metres below. Panic could easily spread with the rest of the team following. They eventually returned with mail and supplies. This used to be the busiest and longest trail in New Zealand and remained so until Gold Fever struck and eventually in 1908 the railway was opened up to Wellington.
Unfortunately our New Zealand from Space Book does not have scenes covering the Patea Trail explicitly but has a dramatic 3D image looking into the Ranges from Napier and a vertical view showing the river terracing round Taihape.
We stopped on Gentle Annie in one of the unpublished free DOC camp sites close to Kuripapango on the banks of the Ngaruroro River. Kuripanapango is named after a Wanganui Maori warrior who was killed ad eaten whilst trying to invade Hawke's Bay in the 17th century. There are several nearby sites and we stopped last time at Cameron a few hundred metres up stream - this time the site down by the river was deserted and we had it to ourselves for the whole time a few cars drove in to look and departed.
We had set up next to one of the new fixed barbecues, a metal box on a pole which you put wood into with a grill and hot plate on the top and a tall chimney. The whole thing could be turned to face into the wind. You will be pleased to know there were very few birds other than a couple of the huge plump New Zealand Pigeons and a couple of Fantails with tails spreading to many times the size of their bodies as the danced round us catch the insect we disturbed.
The wind came up overnight and we headed on to our next target, the Steam Museum at Tokomaru. We complete the Patea trail in a leisurely manner stopping to look at the views and points of interest such as Taruarau hill where Tuwhakaperei, grandson of Tamatea made prodigious leap to escape the Ngati Hotu tribe after being caught ceremonially roasting the hearts of his slain foes, which was frowned upon at that time - such activities endowed the warriors with the strength of their fallen rivals.
By the time we got to the Steam Museum it was already 1515 and we found it now closed at 1500 on non Steaming days but the following day was Sunday and one of the steaming days so we decided to look for somewhere to stay in the area rather than rush on towards Wellington especially as we had not been able to raise our friends by telephone. Monday was Wellington Day making it a long weekend in the area and for the first time we had difficulty in finding anywhere to stay. The Beach areas were heaving and we were looking for a motel to clean up a bit before heading down to John and Blythe. In the end we decided to try a moderate sized town, Levin, but when we got close we discover it was the weekend of an Organic River Festival and everywhere with 10 kms had been pre booked. We headed towards Wellington trying once more to phone and try to think of an excuse to turn up early and grimy after days on primitive camp site without success, either with the phone or in finding excuses.
The winds had however dropped to a level where a tent was becoming possible so we turned off to Otaki Beach which had a large motor camp and both a no-show motel room and a sheltered tent slot. Rather than take the no-show exactly at the time limit we set up the tent once more. It was a very pleasant site for a commercial site and the first one we have found which took dogs (Jenny and Kev to note). They also had an on-site bar and restaurant and we quickly downed a few cold beers Macs Gold, more like a lager, and Pauline's favourite Speights Old Dark, a cross between a mild and a true dark heavy beer making it especially good well chilled.
The next morning after a good nights sleep on a flat smooth sand site we solved the telephone problem. Our friends had shifted to a cable supplier, Saturn, and their telephone number had changed. The note was very different to the UK unobtainable and what we heard might have been a warning this had happened. The outcome was that we decided to stay another day and double back the 40 or so kms to the Steam Museum whilst it was in steam - a very good decision. We got there a bit early because we did not realise it did not open its doors until 1330 on steaming days to give them a chance to get set up. We followed a nearby Heritage Sign to Horseshoe Bend reserve where we watch people swimming in some lovely large swimming holes in the river - it looked cold as they were all in wet suits so even Pete did not participate.
The Steam Museum is at Tokomaru on the highway 57, an alternative parallel road between Palmerston North and Levin, initially follow signs for Massey not Levin leaving Palmerston North or branch off at Shannon going North. It is marked on our AA map and is well signed. It is owned and run entirely by Colin and Esme Stevenson and, unlike almost all such enterprises in Europe, there is no large band of volunteers supporting them - on Steaming days they have a few paid helpers for safety considerations otherwise it is all their own work.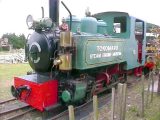 The day we were there Colin had 8 static engines running inside, not all simultaneously as the boiler will not support them all, as well as two road engines outside and the train was in continuous use on a loop track running through the old Tokomaru station. They have an impressive collection of engines, mostly from last century with an emphasis on ice making plants, generators and ship engines although there are many others either running, on display or in storage.
They were mostly from the UK or built under UK licenses although the centrepiece of the collection is a huge refrigeration plant built in Milwaukee. It used to produce 180 tons of ice a day for the meat trade. Most of the engines were rescued from being scrapped and were in full time use until they came to the museum and it is a tremendous achievement for Colin, almost single-handed, to keep so many of they in a such good condition and running when the large ones would have had large teams to run them.
They have no information sheets, just simple adverts, and no web site. The museum was opened in 1973 by Prime Minister and in the early days they wrote a book which is now out of print. Since then it has taken all their efforts to build up and run the huge collection, a tremendous resource for all but one which few realise exists leave alone the magnitude. Esme promised to send me copies of some of her information and I have videos and stills of the engines which were run and some of the others and have put some more information on the web site on a specific Tokomaru Steam Engine Museum page and made sure that it can be found by Search Engines - a small contribution to help such a magnificent collection survive and be appreciated by more people.
After a fascinating 3 hours we returned to out tent at Otaki Beach to find the wind rising steadily - fortunately we had a very sheltered corner but heard much banging in of pegs and rushing around by others overnight and several tents had gone and others were in disarray by the morning. In our case it moved a bit but no problems although we took it down very early before rain struck - drying a wet tent is no fun.
It was then on to Wellington where we stayed for two days with our friends John, Blyth and Isaac - their house hangs on a hillside with magnificent views over the city and sea from their windows and deck (I think there is a picture somewhere on my web site!).
Wellington is a delightful city - the most pleasant capital we know. It has a small central area and the houses round it almost hang on the hillsides with decks and even carports cantilevered alarmingly from the steep slopes. It is not however perfect, it has the nickname "Windy Wellington" for good reason and the steep hills give one plenty of exercise once one leaves the flat central business and shopping areas. It is a clean tidy city and not overwhelmed with tourists - most people seem to have a purpose and it is one of the few places in New Zealand where one would only feel slightly out of place in a suit and tie.
We spent the afternoon we reached Wellington round the harbour area and in the refurbished Maritime museum (now City and Maritime Museum) which Pauline had missed when I went to it a few years ago - interesting and worth a visit but Te Papa is more important (see below).
The BT Global Challenge boats were in for their month layover half way round and we sat in the "Shed 5" restaurant beside the inner harbour, where most of them were moored, and had a bowl of Kumara wedges with Salmon dip and a glass of Sauvignon Blanc and admired them. The 12 boats are all identical, built of steel and 22 metres long with crews of 18 and race the wrong way round against the trade winds.
Considerable work is done during the layover and a complete shed was dedicated to sail repairs with staff and machine flown out from Hood in the UK. We watched and spoke with a crew member sewing up a main sail - the synthetic material is incredibly strong and the sail weighs a quarter of a ton, imagine reefing and shaking them out in strong winds at ten minute intervals which is what he said they often have to do during the race. Sails can be repaired on the journey or during layovers but there are big penalties if sails have to be replaced so many repairs are made in transit.
Alongside the municipal area on the waterfront area some small "parks" used for outdoor displays and productions. This time they were creating a display of sculpture and we found several dozen artists carving vast blocks of limestone with all manner of tools both mechanical and power. In some cases parts of the sculpture had already emerged whilst in other parts of the blocks were being attacked enthusiastically with axes, pneumatic drills, saws and hammers and chisels.
The following morning was largely spent with Pauline catching up with her OU students etc and M206 as we had access to a landline. I took the chance to get another newsletter finished and sent. I also found 24 emails in the Inbox several of which were unsolicited "fan mail" from people who had found the "Uniquely New Zealand" section of the web site which very pleasing and makes writing these newsletters and the refined versions on the web site worth while. Quotes like "I have just spent a very enjoyable hour reading the pages you have dedicated to NZ. I must admit I am now feeling very homesick, especially after seeing your beautiful photography!" make it all worthwhile. The numbers of visitors seems to also be rising slowly but steadily to the equivalent of several thousand a year.
The rest of the day was spent at the new National Museum Te Papa which translates as Our Place. Te Papa is in general much more dynamic and interactive than most museums - it certainly lives up to the promise of "fascinating exhibitions, interactive displays and high tech fun". Te Papa is certainly not the conventional collection of dry artefacts and stuffed animals - it is about, once more quoting "a celebration of our people, our land and rich stories of our nation". Most of our time was spent in the section covering the Maori culture and heritage - we had been very disappointed with our recent "Cultural Experience" at Rotorua and wanted to find out far more about the background.
The Maori sections are even better than on our first visit with a real Wharenui (meeting house) originating from 1842 and sited for a period in the parliament grounds. There is now much more explanation of the Marae, the Wharenui at the heart of it, the significance of the Marae in Maori life and what is expected of visitors to a real Marae, of which there are thousands in New Zealand.
In Te Papa they lead you into the Maori section through a route representing a visit to a Marae with plenty of explanatory material available if you want to find more about the significance. We also spoke to some of the staff in their background and research areas where we were given access to more original material, parts of which we copied, which give some fascinating insights into how the background of their own highly carved Whare (Meeting House) and how it had been obtained in 1862. It was the masterpiece of one of the finest Maori carvers and the first one carved using steel tools rather than the Greenstone tools in use pre Pakeha. We have bought a copy of one of the books which was in the Research Section we used called "Te Marae, A Guide to Customs & Protocols by Hiwi and Pat Tauroa and published by Reed ISBN 0-7900-0055-5" which gives an even more comprehensive coverage of the Marae and understanding of traditional and contemporary Maori life.
Almost everything in the Mana Whenua section is genuine and there were some illuminating displays and videos on Maori culture, history, spiritual roots and folklore. It is worthwhile for even short term visitors to gain some understanding of the Maori culture and the different interpretation that throws on many aspects of life.. There is also a good section on the Treaty of Waitangi, New Zealand's founding document, which brings out the analogy to the Magna Carta yet shows the tensions and grievances that still resulted. They now have side by side the original English, the original Maori and a recent translation of the Maori back into English which is most illuminating. The Maori text is considerably shorter as it seems to have lost some of the flowery and legalistic wording but there are also some more important differences relating to fundamental concepts such as Sovereignty for which there was no Maori equivalent in their culture. You should also visit the main museum in Auckland and the Treaty House at Waitangi to obtain a rounded picture of the Maori culture and the background and implications of the treaty.
I have moved all the details the of the Marae to a separate page The Marae, Hui (meetings) and their associated protocols.This covers the central role the Marae plays in Maori life and the special rituals which have to be gone through before a Pakeha or Maori from another tribe can be accepted as a guest (Manuhari) by the hosts (Tangata Whenui). This also provides an explanation of Hui, meetings at the Marae and details of the special rituals which have to be gone through before a Pakeha or Maori from another tribe can be accepted as a guest onto a Marae for a Hui.
The next part will cover Egmont (Taranaki) and the Wanganui river and its boats. From Luxury at Mountain House to the wilderness.